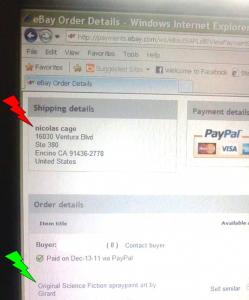 Artwork bought by actor "Nicolas Cage"
July 25, 2012 at 12:11pm

So Nikki and I got home from shopping last night (December 13, 2011) and I checked my emails. Wow I see I sold another Space art piece. The last one went to New York and this one is going to California..then I see the confirmed name and address.. Nicolas Cage, Ventura blvd, Encino California with a suite #.

So we were not sure what to think but it was getting the gears turning for sure!

A couple days passed by and some friends were posting on my news feed and left a link to the profile on Nicolas Cage, and also one on One of his Production Companies in California... Really interesting stuff..

http://www.corporationwiki.com/California/Encino/nicolas-cage/41245464.aspx

Nicolas Cage - Executive Profile

www.corporationwiki.com

http://en.wikipedia.org/wiki/Saturn_Films

Saturn Films - Wikipedia, the free encyclopedia

So the above sites are his work and profile..if these will not open up the actual newsfeed links are in my wall photos on the art work that he bought!

So this was really getting real because at the bottom of the Saturn Film site..if you scroll to the bottom of page on the right side will be a small map and the exact same address and suite # that I mailed this art to !

Pretty awesome knowing that 1. any one could be watching what you are doing or selling, 2. anything can happen, and 3. I will gladly come out to Nicolas Cage's place to paint some murals for him..no problem!