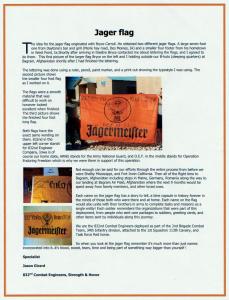 The idea for the jager flag originated with Bryce Carroll..he obtained two different jager flags. A large seven foot one from Daytona's bar and grill (Merle hay road, Des Moines, Ia) and a smaller four footer from his hometown in West Point,Ia.Shortly after arriving in theatre Bryce contacted me about lettering the flags, and I agreed to do them.

This first picture of the larger flag Bryce on the left and I holding outside our B-huts (sleeping quarters) at Bagram,Afghanistan shortly after I had finished the lettering.

The lettering was done using a ruler,pencil,paint marker,and a print out showing the typestyle I was using. This second picture shows the smaller four foot flag as I worked on it.

The flags were a smooth material that was difficult to work on however looked excellent when finished. This third picture shows the finished four foot long flag.

Both flags have the exact same wording on them. 832nd in the upper left corner stands for 832nd Engineer Company, Iowa is of course our home state, ARNG stands for the Army National Guard, and O.E.F. in the middle stands for Operation Enduring Freedom which is why we were there in support of this operation.

Not enough can be said for our efforts through the entire process from before we were mobilized,the training while in Fort McCoy Wisconsin, Camp Ripley Minnesota, Camp Shelby Mississippi, and Fort Irwin California. Then all of the flight time to Bagram,Afghanistan including stops in Maine, Germany, Romania along the way to our landing at Bagram Air Field, Afghanistan where the next 9 months would be spent away from family members,and other loved ones.

Each name on the jager flag has a story to tell..a time capsule in history forever in the minds of those both who were there and at home. Each name on the flag would also unite with their brothers in arms to complete tasks and missions as a single entity ! Each soldier remembers the organizations that were part of this deployment, from people who sent care packages to soldiers, greeting cards, and other items sent by individuals along this journey.

This fourth picture of the 832nd Combat Engineers (2nd Platoon) part of the 2nd Brigade Combat Team, 34th Infantry division, attached to the 1st Squadron 113th Cavalry,and Task force Redhorse.

So when you look at the jager flag remember it's much more than just names incorporated into it..it's blood,sweat,tears,time and being part of something way bigger than yourself !