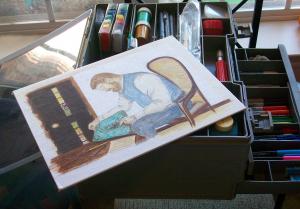 A small 9 x 12" Painting I did for a friend who I have known for years. This Painting was done from a snapshot that my friend Jim Rohret took while visiting with the man in the painting who was his "Lieutenant Dan" (Forrest Gump) as he told me with a small smile on his face..while serving in Vietnam. The map is important because that's the same map that Lieutenant Krussel got out of his gear and referred to so many times while in some of the most dangerous areas of Vietnam and also an area referred to as the Parrots Beak in Cambodia. You are probably familiar with the movie "Platoon" the Oliver Stone movie well..Oliver Stone did serve with the 25th Infantry Division in Vietnam as well as Jim and Lt. Krussel and they actually replaced the company that Stone was in when they rotated out of Vietnam. Jim has told me some other stories when we get together since we are both Veterans and I was glad to hand this painting over to him and expect nothing for it in return...why...because that's part of Sacrifice and Veteran's along with their families know what that word is all about!

Jason Girard
Specialist
832nd Combat Engineer Company
2nd Brigade/34th Infantry Brigade Combat Team
Afghanistan "Operation Enduring Freedom 2010-2011"