September 17th, 2014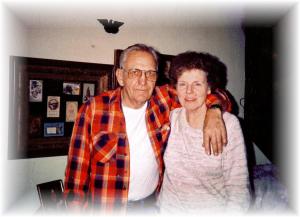 My Grandparents Death !
March 20, 2011 at 8:37am

Jason Girard

Persuasive Speech Outline

S.P.S. At the end of my speech the audience will be persuaded to have any Liquid Propane or Gas systems thoroughly checked.

Thesis Statement Each year thousands are injured or killed in Propane Gas explosions.

Introduction It was a June evening in the year 1993. People were enjoying themselves in a small town ....Iowa.... community. However one families life was about to change forever. At about eight oclock p.m. (play video) a ground shaking explosion occurred that some said could be felt miles away. The blast blew entire walls of (show pic) this home apart leaving a crumpled pile of debris in it's wake. Later at the scene family members supported each other as best they could over the possibly preventable death of (show pic)

my Grandparents. So you ask how could this have happened ? One answer I will state is that there are safety issues associated with the use of Liquid Propane Gas. I will also state that this happened due to negligence on the part of 1. a Liquid Propane provider and 2. a furnace company.

Body The Iowa Propane Gas Association states that around 5 million households use propane for heating homes and almost 3 million use propane for water heating. With this being said the need for safety must be a top priority. Since propane is a odorless,and colorless gas the need for the flammable gas to be noticed in the event of a leak is high. It cannot be colored however a odorant (ethyl mercaptan) adds a rotten egg smell to help aid in detecting a leak. Propane is also considered a heavy gas and will accumulate in low lying places such as basement floors.So it stands to reason if you have a larger house with a basement it could be easy for a propane leak to go undetected especially if the ethyl mercaptan level is not sufficient. There is a strong need for a quality propane tank free from defects such as dents,fire damage,including corrosion such as rust (according to I.P.G.A. and public safety code 661 chapter 226 of Iowa code pertaining to propane tanks) So with this being stated lets go back to 1993 in the weeks and months following the explosion. Through countless hours of investigation it was found that the propane provider "Crows Superior Gas" supplied 75% of the L.P. tanks to this town of 400 including my Grandparents.All of the tanks supplied by Crows Superior Gas were constructed in the year 1955. Also that my Grandparents tank was electronically filled with ethyl mercaptan to a unsatisfactory level. Further more the inside of the tank had a high amount of rust inside which greatly reduced the odorant smell that warns people of a leak. It was also found that the gas control valve on the furnace which controls the amount of Gas coming into the furnace failed. Recapping the events on that afternoon my Grandparents called to have the propane tank filled the tank was filled the gas control valve failed on furnace letting a unknown amount of propane to flood the basement. No one could smell a leak due to insufficient level of ethyl mercaptan in propane tank and due to the rust in the tank. Two hours later a sump pump in the basement kicked on producing a tiny spark which ignited the liquid propane causing the explosion.

It's obvious to me the need for a new policy to be made in not only L.P. Companies but also Furnace Companies involving safety. A plan where safety checks by certified technicians be made annually in support of the consumer. My plan would pass mandatory magnetic particle, radiograph, or ultrasonic inspection of large L.P. tanks. These tests look for internal flaws such as cracks, corrosion, inclusions, and thickness variations. As of now these are not mandatory.

The practicality issue of my plan deals with consumer rights and safety.

The National Propane Gas Association website states (and I quote) Safeguarding your business from intrusive government regulations and promoting policies that enhance your position is the goal of N.P.G.A. furthermore N.P.G.A. has 3,500 member companies dedicated to rolling back harmful regulations and promoting new rules that make life easier for propane retailers. Where is safety ?

Some issues N.P.G.A. is involved with right now are climate change-which would require propane producers to purchase emission allowances beginning in 2012. Fuel tax credit extension – a 50 cent per gallon tax credit for propane retailers involving motor vehicles or boats is set to expire this year. Where is safety ? Is safety put to the side like in the case of my Grandparents ? over 40 year old gas tanks with rust in them. Not enough odorant. Superior Gas even tried to take the tank from the property two days after the explosion. They failed to get it. The furnace provider Honeywell could not be held liable on the gas valve due to a loophole in the system. On a side note in researching this speech I found a Consumer Product Safety Commission article from 1982 stating the recall of over 200,000 gas control valves used in heating appliances fueled by liquid propane. Made from 1966-1972 these valves accounted for 28 explosions to include 5 deaths and 21 injuries. If my Grandparents would have been informed by Honeywell like they were suppose to of the faulty valve they may still be alive today!

As I conclude this speech I understand not all listeners use large tanks of L.P. however

76% of Americans use gas grills and they can be dangerous.

I hope you feel the need for policy change in the Propane/Furnace industries. Don't take a chance on leaving a crumpled heap of memories behind. Have your systems checked !